The most important event of the year in Japan is
New Years
.
Many companies and stores, along with the schools, go on vacations that extend from the end of the year on into the
new year
, during which time many individuals return to their hometowns to celebrate
New Years
with their families and relatives.
One particular New Years custom is "nengajo", or
New Year greeting cards
. People send these cards to friends, acquaintances, former teachers, customers and clients, and others as greetings for the
new year
.
During this time, close to four billion post cards expressly intended for use as New Year's cards are sold throughout Japan.
New Year Greeting Card Designs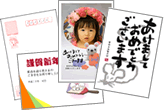 While New Year's postcards are available in many different pre-printed designs, more than half are purchased with the reverse side left blank. This blank space is used by individuals to put their own original designs.
People use various different means of printing designs on their cards, with some using their home computers and printers, others hand-drawing or painting their designs, and still others using wood block or other printmaking methods, while some people have a specialist printer do the job. Cards these days commonly include recent news along with family photo.
Thus prepared, the New Year's postcards are usually mailed sometime in December and then delivered all at once on January 1st.



Indicating the Year with an Animal

If someone asks you, "What year is it next year?", how do you answer?
Many people would likely say, "2008". Those who are very familiar with Japan might respond, "Heisei 20", the year of the current era.
There still one more way of answering this question: "The year of the rat".
This is one of the twelve signs of "juunishi", the Chinese zodiac, which circulates through rat, ox, tiger, hare, dragon, snake, horse, sheep, monkey, cock, dog, and boar. Many New Year greeting card designs incorporate the animal signifying the particular year, along with other auspicious symbols. With 2008 being the "Year of the Rat", there will be many pictures of rats and mice appearing on these cards.



Wouldn't You Like to Send Some New Year Greeting Cards?

This site contains illustrations and designs for use with New Year greeting cards.
How about using these materials to create your own "nengajo"?



[ Expressions Used in New Year's Cards ]